Go by Bike From Podgorica to Lake Skadar - The best route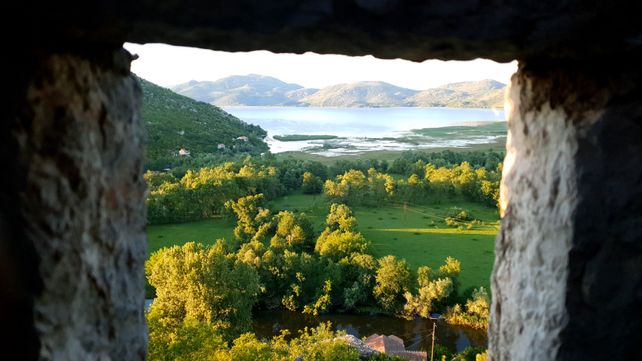 National Park Lake Skadar shared by Montenegro and Albania is the biggest lake of the Balkan Pensinsula. Its size varies from season to season,  from 350 sqkm (September) to 550 sqkm (March). Beside being in the first line an important nature reserve, especially for birds,  the region is also the historical heart and soul of Montenegro. While cycling you pass ancient villages, fortresses and fishermen villages and you get an impression of traditional Montenegrin lifestyle. Last but not least you can reward yourself with great lake fish dishes, fresh vegetables and a glass of locally grown Vranac wine  - "Bike and Bite".
Following some general information on cycling in Montenegro:
Road safety
Car drivers in Montenegro get more and more used to cyclists on the road since this sport is becoming more  popular among locals. Do not get startled if they horn at you, that is good sign in the meaning they really recognized you. 
Since a few years the city of Podgorica has bike lanes which follow the main roads as long you are in the center. If the bike lane ends and you should feel more comfortable to use the side walk you can also do this. Nobody will bother as long as you cycle slowly and cautiously. 
Bike rental
You can bring your own bike. Many airlines transport your bike to Montenegro. Make shure it is well packed. More comfortably you can rent bicycles from our base in Podgorica. Have a look at our rental bikes.
From Podgorica to Zabljak Crnojevica in Lake Skadar National Park 
Zabljak Crnojevica at Lake Skadar is a hidden gem at the doorstep of Podgorica you can conviniently explore by bike. If you ride an everage of 18 to 20km/h it takes you 1.5 hrs to get there. Considering the return, it takes in total 3 hrs of cycling. Plan approx. one hour to visit the fortress and refresh yourself.  It is nice half-day tour which you can either do in the morning (start 8 am) or later in the afternoon (start at 4 pm).
Total distance: 50km
Total ascent: 200m
Riding time: 3hrs
Total time to plan: 4-5hrs
Link to gpx-track:  By bike from Podgorica to Lake Skadar
Routing
Lake Skadar is right at the doorstep of Montenegro's capital Podgorica. Just consider that not many capitals are that close to a protected area. I can only think of Vienna, which actually shares a National Park with its neighbouring county.
The route starts right from the very center of Podgorica at "Trg republike" (Republican Square). This quarter of Podgorica is very popular among visitors since here you find nice boutique hotels, the best restaurants and you can also embark Podgorica's night life - which is highly recommended after a great cycling day.
From the center you head for "Bulevar Svetog Petra Cetinskog" which has a bike lane on both sides. Cross river Moraca and follow it until the 3rd traffic light. Turn left onto "Bulevar Dzordza Vasingtona" (there is no bike lane, but this is only for 200m). Before you enter the roundabout a bike lane again starts on your right side. Switch to it and follow the first exit of the roundabout in the direction of Cetinje. You pass the shopping center "Delta city". Here there bike lane ends, but feel free to continue riding on the side way until the next roundabout. Take the second exit in direction of Cetinje and follow this new two lane road for 2.5 km until the roundabout with a bronze monument in it's center. There you take the third exit, passing the "Renault" service on your right hand side. You are now on a side road, which you follow until you cross a small bridge over a dry stream. Right after the bridge turn left. At this turn you have a chance to buy some water or snacks.
Soon after this turn you meet on your left side river Moraca on it's way to the lake Skadar. If weather allows you can admire the mountain peaks of Prokletije mountain range in far distance, which is until mid May exceptionally beautiful in the late afternoon hours when the sun illuminates the last patches of snow on top of the mountains.
I call this route the "Garden route" since here farmers grow fruits and vegetables for the city. It makes a good feeling to know where your food comes from.  Most common crops are cabbage, tomatoes, watermelons, peppers but also tobacco - yes, there is tobacco grown in Montenegro and you can buy and try eg. at the local farmers markets.
While cycling you are fast enough but also slow enough to notice small things like the abundance of flowers next to the road, many green lizzards and the snake look a like lizard called "Glass lizard" which can reach a length up to 1.5m.
After approx. 18km of cycling you pass a bridge over river Moraca on your left side. On the other side of this bridge is very close the train station of "Golubovci". In case you would like to shorten your return trip you could board there a train back to Podgorica. Trains usually run each hour. Here is the link to the schedule.
The closer you get to the lake the more tranquil and serene the atmosphere gets. In the village of Ponari your final section to Zabljak Crnojevica leads through the floodplains of Lake Skadar. There on my way I met free grazing cows and their cowboy on bike returning from the grassy floodplains of Lake Skadar. The vastness of these plains you will witness as soon as you are on top of the Ottoman fortress of Zabljak Crnojevica.
Finally you arrive after 25km in Zabljak Crnojevica. Old stonehouses are tucked into the hill slope and each stone seems to tell it's story. On the very top of the hill are the remains of the fortress. You can park you bike at the small restaurant - lock it, but also the owners will have look at it. The main access trail to the fortress is next to the stream at the end of the road. If you should miss it, do not worry, all trails lead in the end to the fortress. Each step takes you to a better view until you reach the ultimate 360degree lookout on top.  This time I was around 7pm on top and the setting sun turned lake, meadows, villages and mountains into a smooth, warm and embracing entity. I was after many visits again in awe.
Just to add some history of this special place. The castle's foundations are dating back to Roman times who ruled these area in the middles ages. Zabljak Crnojevica was most prosperous during the Crnojevica dynasty who ruled Montenegro during the 15th century, then it was not a village but rather a town. The Ottomans who seized it in the late 15th century hold it for more than 400 years until 1878. During this time the walls got fortified (up to 15m high). Today you can still see the remains of the waterbasin, the foundations of a church (then a mosque) and houses within the walls.
Return the same way to Podgorica or embark the train in Golubovci (see remark above), which saves you approx. 17km of riding.
If you like to explore Montenegro by bike join one of our self-guided cycling tours in Montenegro.